Easy Cinnamon Rolls in just one hour your whole family will love with all the buttery soft dough, classic cinnamon sugar flavors and cream cheese frosting.
We love Cinnamon Roll flavors on the site including our crazy popular Easy Cinnamon Roll Coffee Cake which is what you should be making for brunch every time you have guests over and our Ultimate Glazed Cinnamon Roll Pound Cake (this is a showstopper!).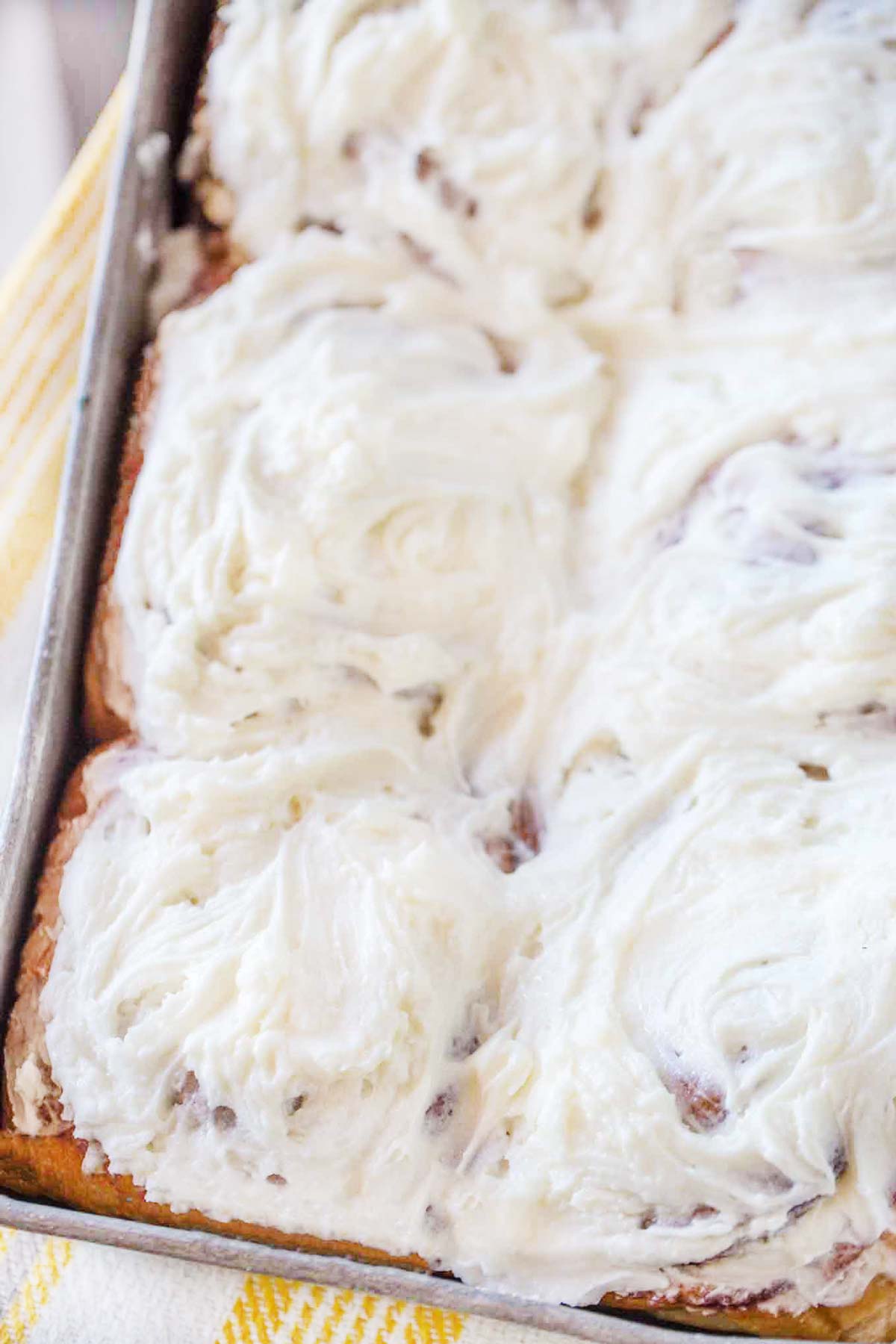 EASY CINNAMON ROLLS
Making a holiday breakfast for a crowd is a breeze with these Easy Cinnamon Rolls. This recipe is easy enough to make for a small family brunch or for a Christmas morning breakfast for your entire extended family and you can still enjoy the morning opening gifts and relaxing on the couch while the whole house smells amazing.
When making these cinnamon rolls icing is a huge part of the serving process. When I am baking them to serve immediately I wait just five minutes then ice them so that the icing only partially melts onto the cinnamon rolls. If you are going to keep these cinnamon rolls for eating over a few days I would wait for them to cool completely before icing.
MORE BRUNCH RECIPES FOR A CROWD:
For more easy, holiday dishes to feed a crowd, check out our Breakfast Recipes.
These are a made from scratch cinnamon roll recipe, with all the flavor of a warm, gooeyness you love, without all the work. Impress your family with these tasty, easy cinnamon rolls.
When to ice your Cinnamon Rolls:
Warm Glaze: When you add a warm icing or a room temperature icing to warm cinnamon rolls you'll end up with a melted, glossy icing on top of the rolls. This also means it will be a thinner layer. Only glaze while warm if you have a baking dish that can contain what melts from the rolls.
Room Temperature Glaze: For gift giving we prefer a room temperature glaze. This allows the gift recipient to warm the rolls and have enough icing that when it melts they'll still have a bountiful amount of glaze.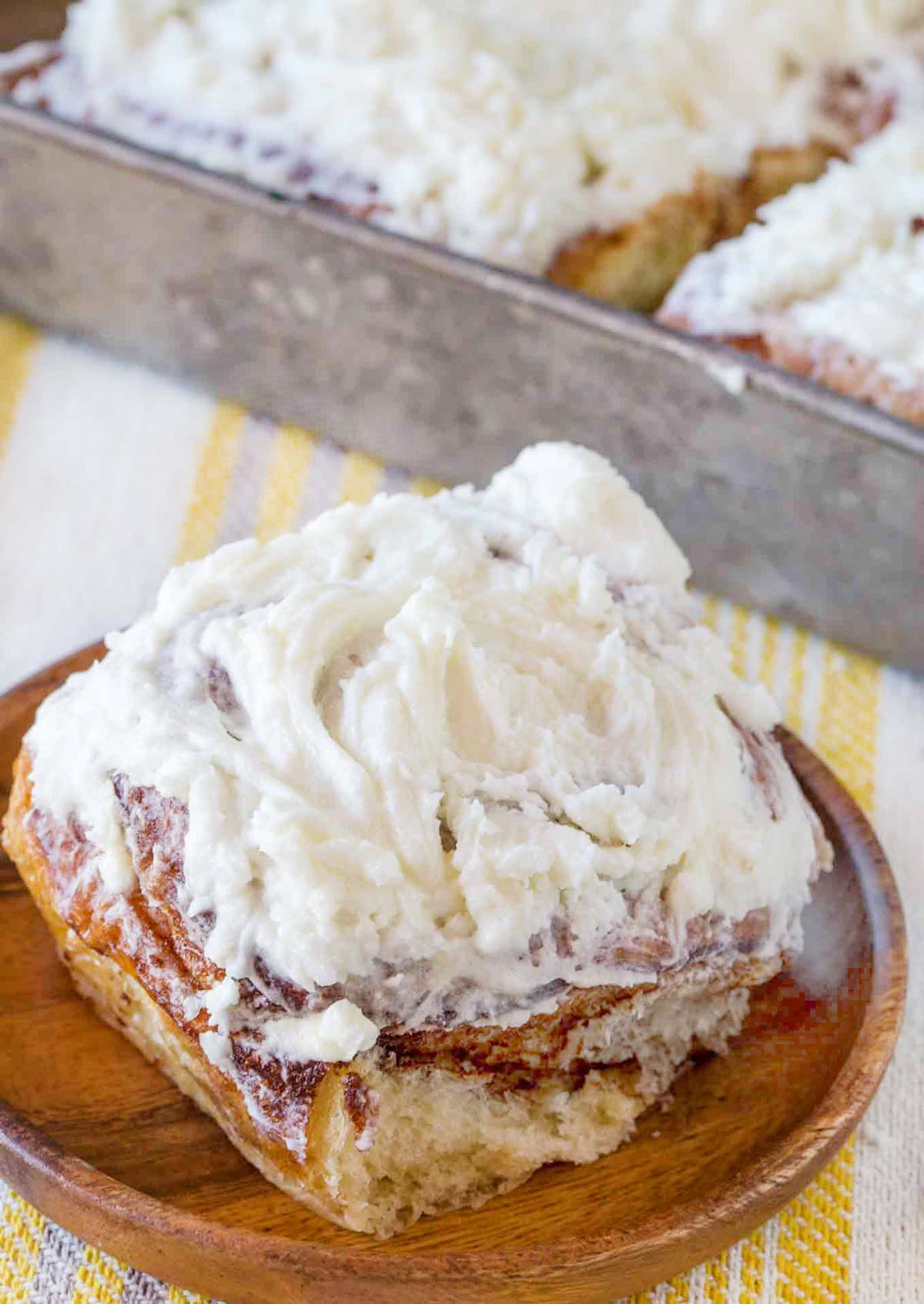 Create a free account to

Save Recipes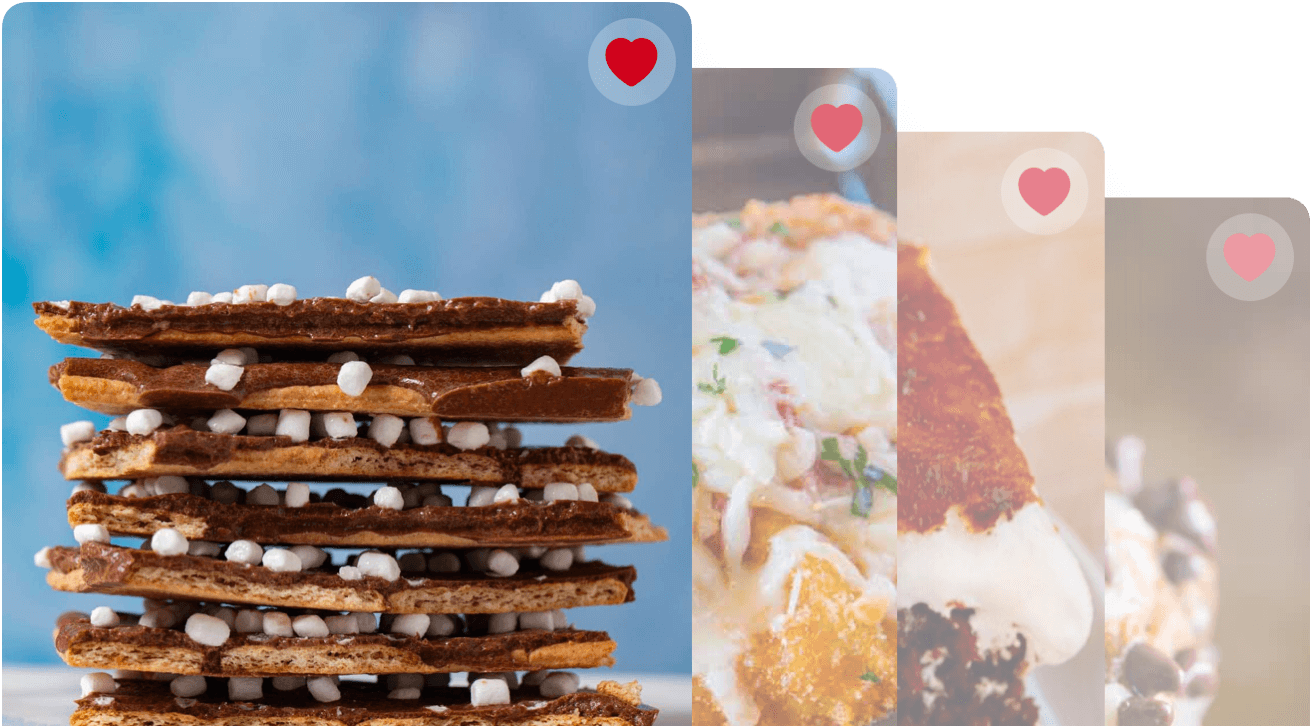 FAQS for the perfect EASY cinnamon rolls:
Why do my Cinnamon Rolls fall after baking? Over kneading is the main cause of Cinnamon Rolls falling after baking. Use a stand mixer to do all the work and prevent over kneading.
How do you know when Cinnamon Rolls are done? Cinnamon Rolls are done when the center roll is fully baked. Test with a knife and if the dough is sticky and raw looking, continue cooking for 5-10 minutes.
How long can you keep Cinnamon Roll dough in the fridge? You can make Easy Cinnamon Roll dough ahead of time and keep in the fridge for 24 hours.
Why didn't my Cinnamon Rolls rise? They may not have had enough time to rise. These rolls are done in just about an hour, but if you have time, let them rise longer.
How to gift Cinnamon Rolls:
Yes, this is a question I was emailed a lot about this recipe. If you are gifting this recipe, here are some tips:
Bake your rolls in the gifting pan (disposable aluminum or a nice baking dish <— this could be part of your gift) is a great option).
Make sure you wait for the rolls to cool completely before icing.
Make sure to give the rolls to the recipient when they will be within 2 hours of refrigerating.
If you want this to be shelf stable make a non-cream cheese icing for the rolls.
Include a note to your recipient with a link to the recipe so they can recreate the gift.
OTHER DELICIOUS BREAKFAST OPTIONS:
What is your favorite part of the cinnamon rolls? Ours is the outside layer while others love the delicious center bite!
HOW TO STORE EASY CINNAMON ROLLS
Serve: Serve these rolls warm out of the oven or at room temperature. To re-warm them gently place them in a microwave on 50% power for 30-40 seconds.
Store: Once you've let the rolls cool down, you can store at room temperature for 3-4 days or in the refrigerator for up to a week. Cover the baking dish tightly, or put it in another airtight container.
Freeze: To freeze, move the rolls to an airtight container. It will keep well for up to 3 months.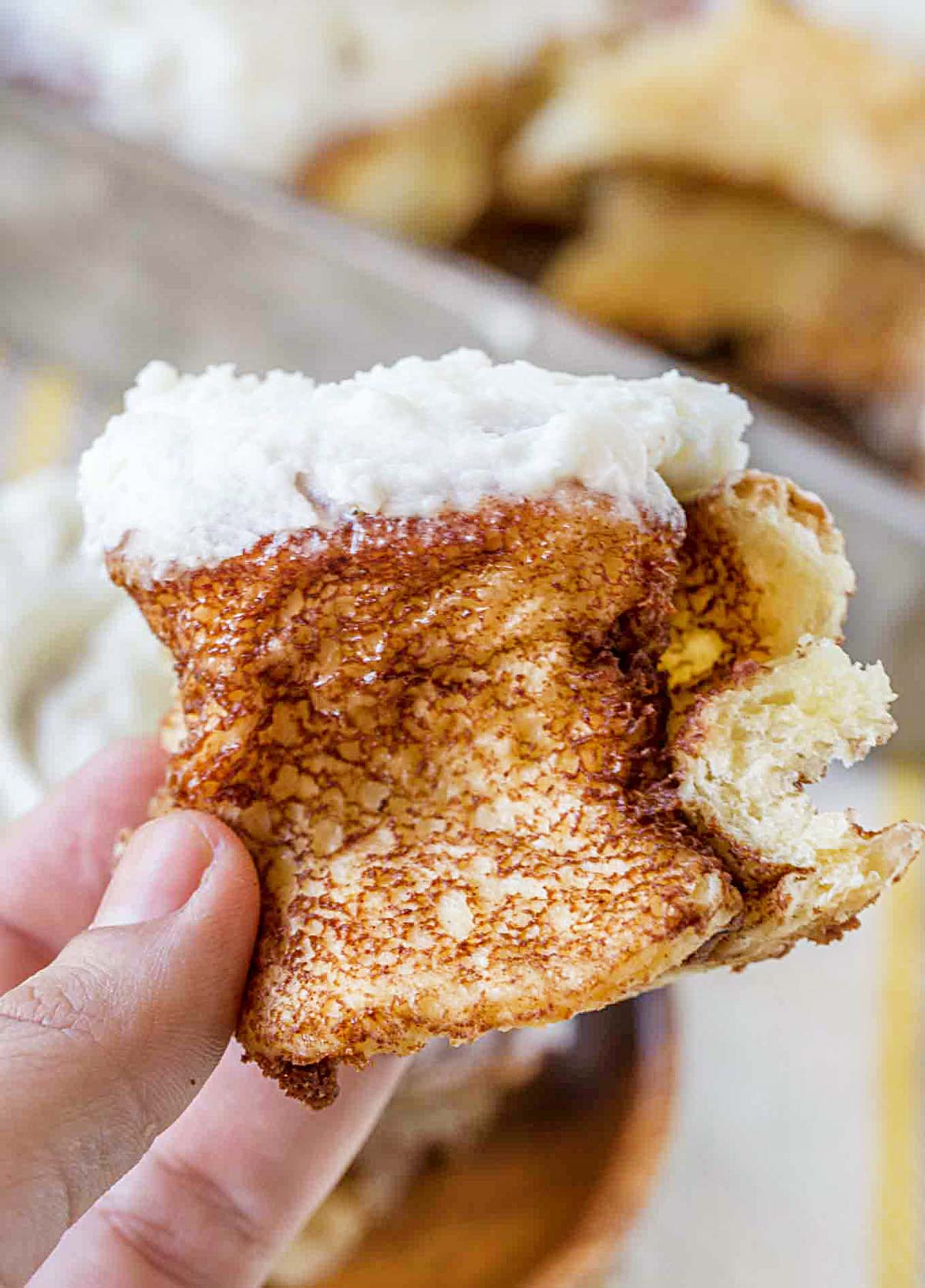 Tools used in these Easy Cinnamon Rolls:
Saucepan: Easy for sauces, cleans well and inexpensive. I've used this pan for clients for years, and use this one for home (gotta love wedding gifts!).
Stand Mixer: Let your stand mixer do all the work, the dough and the icing are done in this.
Sheet Pan: I use two of these pans and do 9 rolls to a pan.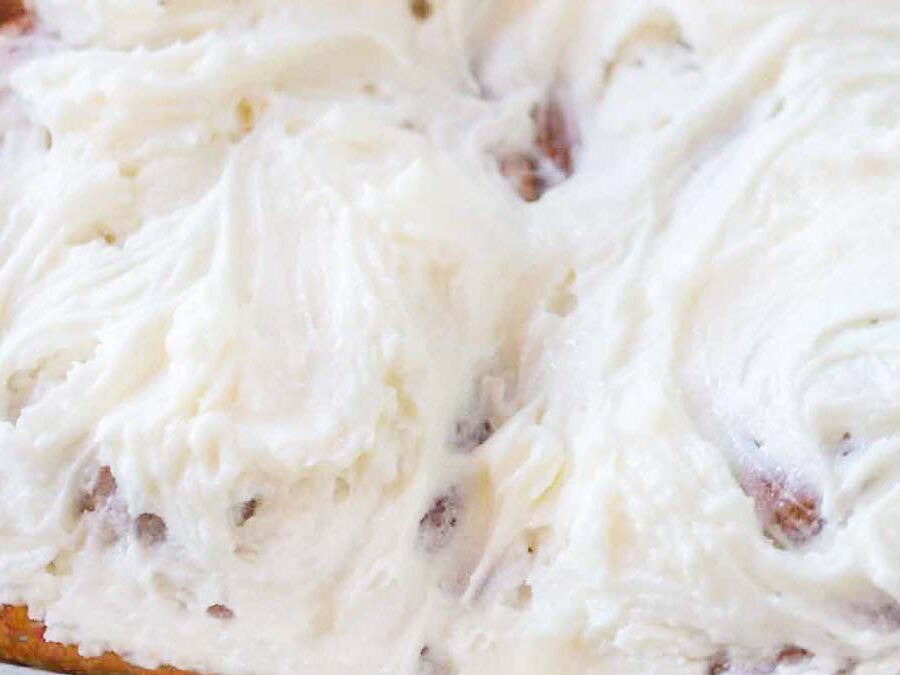 Easy Cinnamon Rolls
Easy Cinnamon Rolls in just 1 hour that your family will love.
Ingredients
CINNAMON ROLLS:
2

cups

whole milk

1/2

cup

butter

, room temperature

6 1/2

cups

all-purpose flour

, divided

1/2

cup

granulated sugar

1

teaspoon

salt

2

packets

instant

, rapid rise yeast

2

large

eggs
FOR THE FILLING:
1

cup

sugar

3

tablespoons

ground cinnamon

1/2

cup

unsalted butter

, room temperature
CREAM CHEESE ICING
12

ounces

cream cheese

, (1 1/2 packages) softened

1/3

cup

unsalted butter

, room temperature

1

tablespoon

vanilla extract

5

cups

powdered sugar

3

tablespoons

whole milk
Instructions
CINNAMON ROLLS:
In a

small saucepan

heat the milk and butter to 110 degrees (warm to touch).

Into your

stand mixer

add the yeast and milk and whisk and let sit for

one minute

.

Add 6 cups of the flour, sugar, salt and eggs to the stand mixer.

PRO TIP: COVER YOUR MIXER WITH A CLEAN DISH TOWEL.

Attach the dough hook and turn the mixer on speed 3-4 (low to medium).

Let it go for 5-7 minutes, you want the dough to become a ball that doesn't stick to the walls of the bowl.

If you find sticking add flour 1/4 cup at a time until it pulls away (no more than another cup)

Take the dough out, grease the stand mixer bowl and put it back in.

Cover the dough with your dish towel you used to keep the flour in the stand mixer.

Let sit for 10 minutes while you set the oven to preheat to 350 degrees and you make the filling.

In a medium sized bowl mix the sugar and cinnamon.

Using a large even surface, add 1/2 cup of flour and roll it out onto the surface to coat the rolling pin and the surface.

Roll out the dough into a large rectangle about a 1/2 inch thick (if your space is limited do this in two halves).

Spread the butter over the dough (I use my hands) and sprinkle the cinnamon sugar over the butter.

Roll the dough tightly to form a long log and using a piece of thread slice off pieces. The dough will make 18 large cinnamon rolls.

Place the rolls into buttered baking pans or jelly rolls.

Place the rolls into a warm place for 20 minutes (I have a second oven, so I heat it to warm when I start the recipe, then turn it off and open the door for a couple of seconds then close the door. The residual warmth is perfect for these rolls).
CREAM CHEESE ICING:
In your stand mixer whisk all the ingredients together.
TO FINISH THE CINNAMON ROLLS:
Bake the rolls for 18-20 minutes or until golden brown.

Spread the cream cheese frosting over the rolls and serve warm or at room temperature.
Nutrition Facts
Easy Cinnamon Rolls
Amount Per Serving (1 roll)
Calories 574
Calories from Fat 198
% Daily Value*
Fat 22g34%
Cholesterol 78mg26%
Sodium 331mg14%
Potassium 125mg4%
Carbohydrates 87g29%
Protein 7g14%
Vitamin A 750IU15%
Vitamin C 0.1mg0%
Calcium 79mg8%
Iron 2.4mg13%
* Percent Daily Values are based on a 2000 calorie diet.