Crab Salad with celery and mayonnaise is a delicious and inexpensive delicious way to enjoy the classic Seafood Salad we all grew up with.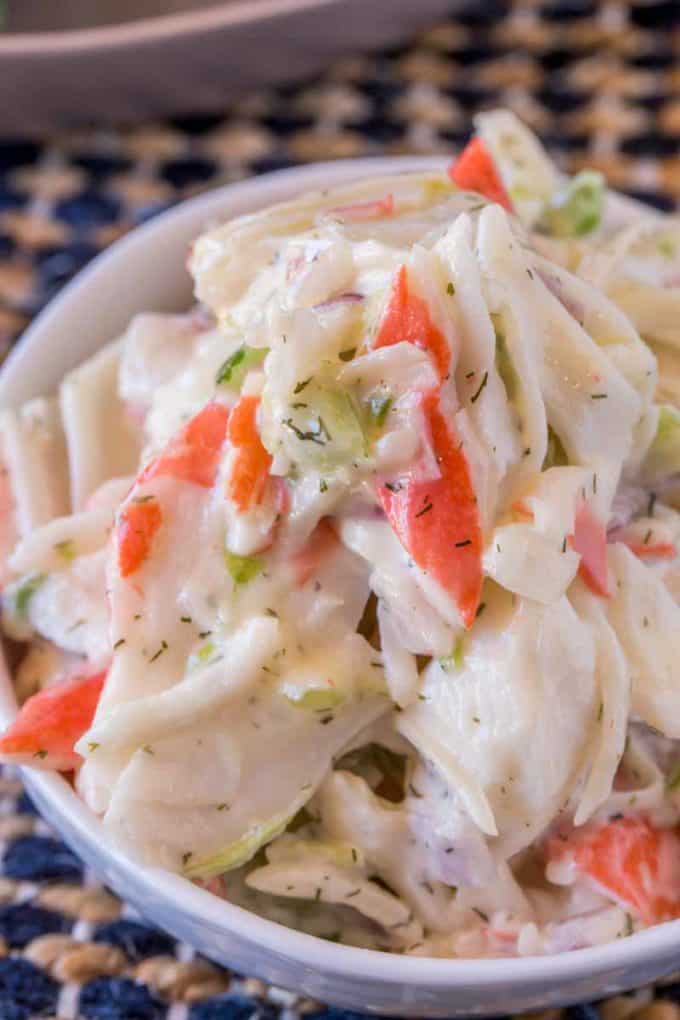 A Crab Salad Sandwich was one of my favorites I used to order as a kid in sandwich stores. We would go to Subway and I was always so excited to get it that one day my mom went to the grocery store, found it in the seafood department and excitedly came home to make sandwiches at home for us with this amazing seafood and mayonnaise combo.
The flavor and childhood memories you have from being a kid are always so wonderful, I have always had nostalgic reactions to food I used to enjoy as a kid. That is why I tracked down the recipe for Pioneer Take-Out Fried Chicken. It was the ultimate in my childhood food memories.
How do you make imitation crab salad? With a mixture of celery, mayonnaise, paprika, dill and imitation crab meat.
I know it sounds a bit odd to mix seafood and mayonnaise but it is a classic preparation you find in tuna salad, on lobster rolls and even chicken salad. Protein and mayonnaise are fast friends in these salads.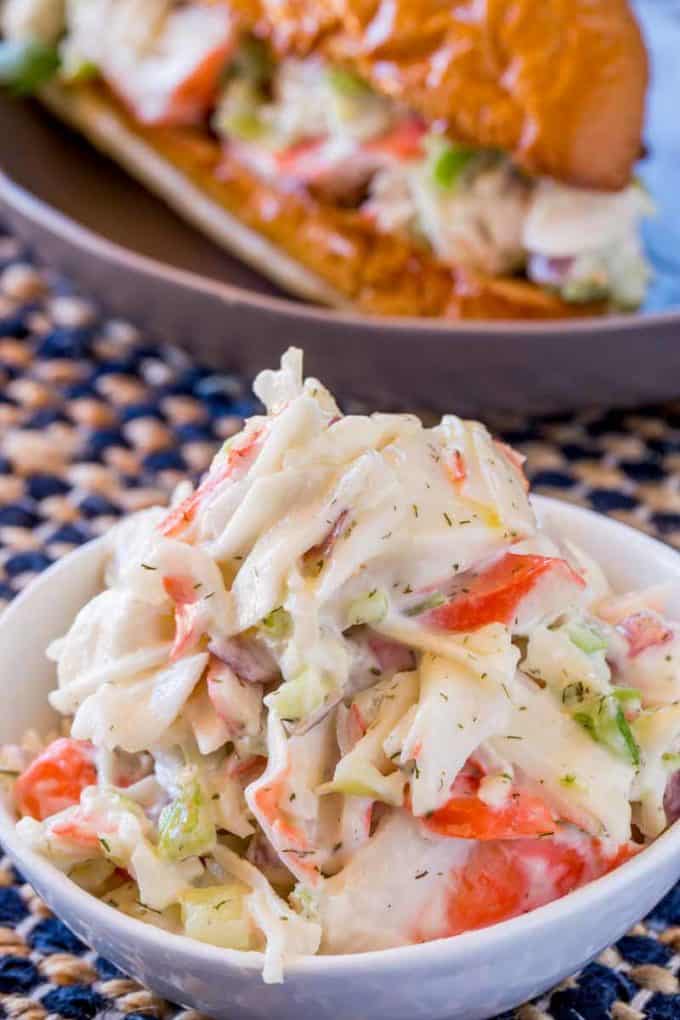 What kind of crab am I using in this crab salad recipe? I am using imitation crab meat, sometimes referred to as krab or krab meat. Don't think that even though it isn't actual crab meat that this isn't still actual seafood.  This is actually why many people refer to the salad as Seafood Salad.
Imitation Crab Salad (krab) is actually made with Surimi, a whitefish that is ground them binded with a starch to resemble a crab leg. Huffington Post wrote a great post about what exactly imitation crab (krab) is. I will say, nutritionally you're better served purchasing actual crab meat, but for the purposes of this classic seafood salad, this is the ingredients you will find when you go to your grocer's seafood counter.
I actually enjoyed making this recipe so much I made it into a crab salad sandwich to enjoy. My husband ate it on top of a bed of lettuce and added cherry tomatoes. However you find yourself enjoying the recipe, if you had it as a kid this will take you back to those memories. I do highly recommend the crab salad sandwich though, it was delicious!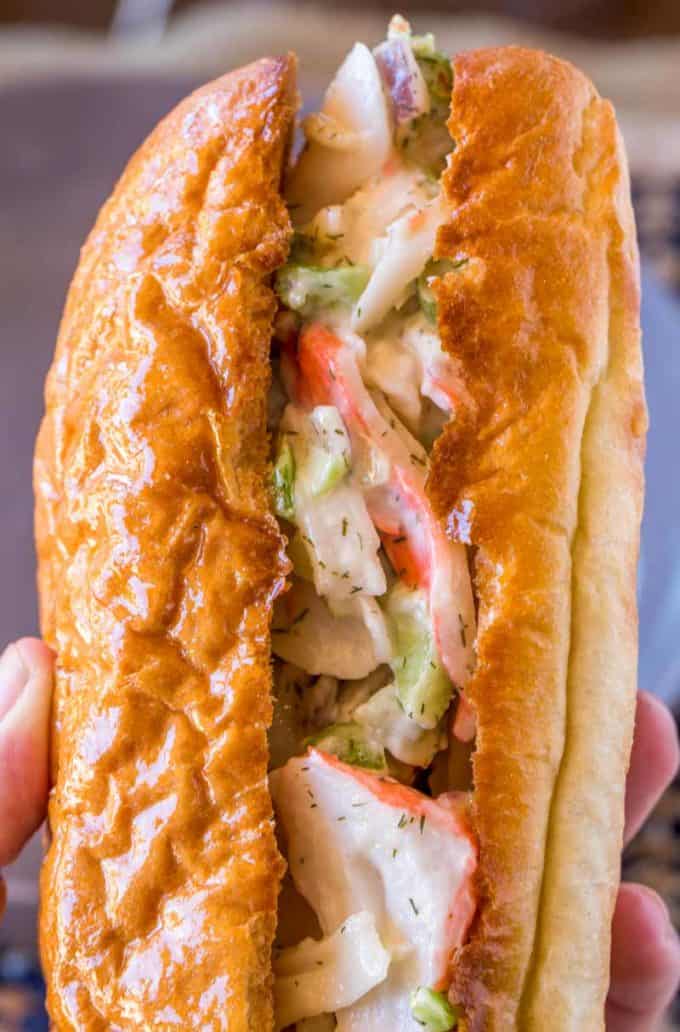 Ways to enjoy this Crab Salad (Seafood Salad):
Add it to a hoagie roll (see above), toast the roll, add lettuce then pile high with the salad.
Add it to 1 pound of cooled shaped pasta for a Seafood Pasta Salad, just double the ingredients outside of the crab meat to flavor the pasta as well
Add it to a cored out vine ripe tomato for a low carb presentation.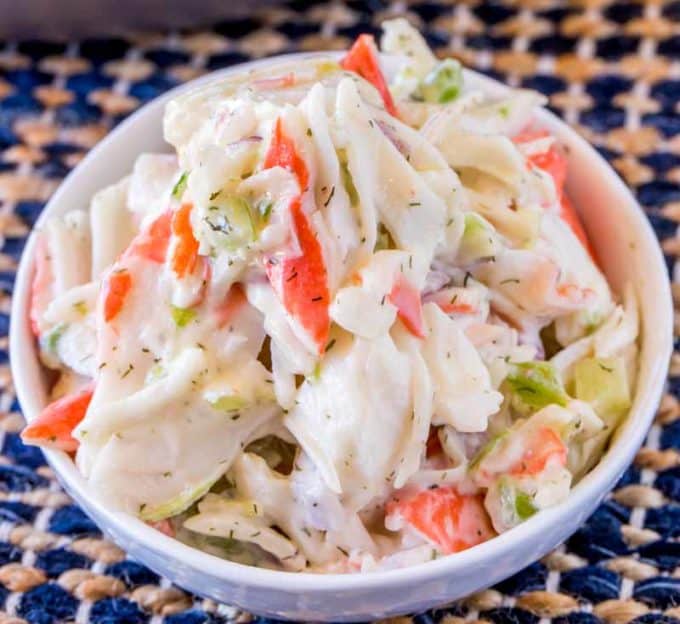 Looking for more summer salads?
Now where is my Sony Walkman…
Tools Used in the making of this Crab Salad:
Mayonnaise: I've tried a number of different brands, this one is the most spot on flavor.
Spice Rack: I use this spice rack and fill up the bottles with freshly purchased spices. It's basically one of the most beautiful things in my kitchen and when you're working with a large quantity of spices, not having to hunt and peck through your cupboards makes everything go at warp speed.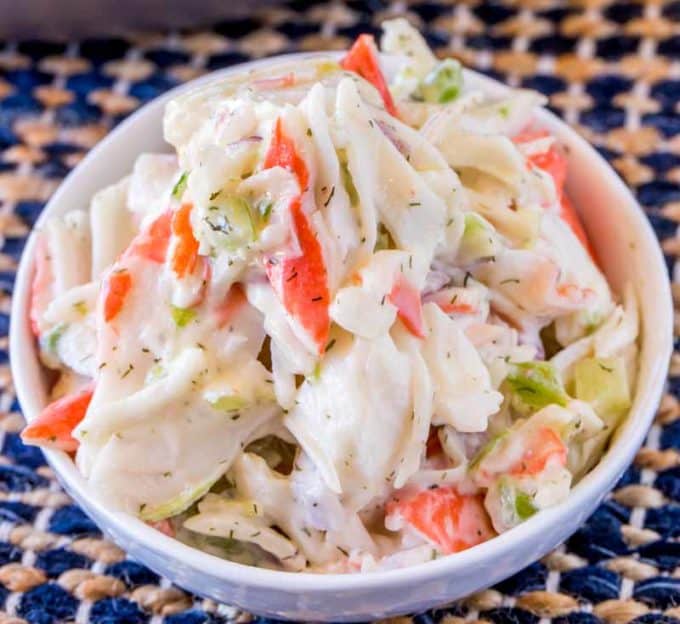 Crab Salad (Seafood Salad)
Crab Salad with celery and mayonnaise is a delicious and inexpensive delicious way to enjoy the classic Seafood Salad we all grew up with.
Ingredients
1

pound

imitation crab

krab meat

1

shallot

minced (you can use red onion if you need)

1/2

cup

mayonnaise

1/2

cup

celery

minced

1/2

teaspoon

paprika

1/2

teaspoon

dill

1/4

teaspoon

Kosher salt

1/4

teaspoon

black pepper
Instructions
In a large bowl add all the ingredients together gently, stirring until well coated.

Refrigerate for an hour before serving.
Nutrition Facts
Crab Salad (Seafood Salad)
Amount Per Serving
Calories 310
Calories from Fat 189
% Daily Value*
Fat 21g32%
Cholesterol 24mg8%
Sodium 971mg42%
Potassium 53mg2%
Carbohydrates 21g7%
Protein 6g12%
Vitamin A 200IU4%
Vitamin C 0.9mg1%
Calcium 5mg1%
Iron 0.2mg1%
* Percent Daily Values are based on a 2000 calorie diet.