Cheesesteak egg rolls have all the flavors of the classic Philly Cheese Steak Sandwich in a crispy shell and made with ground beef!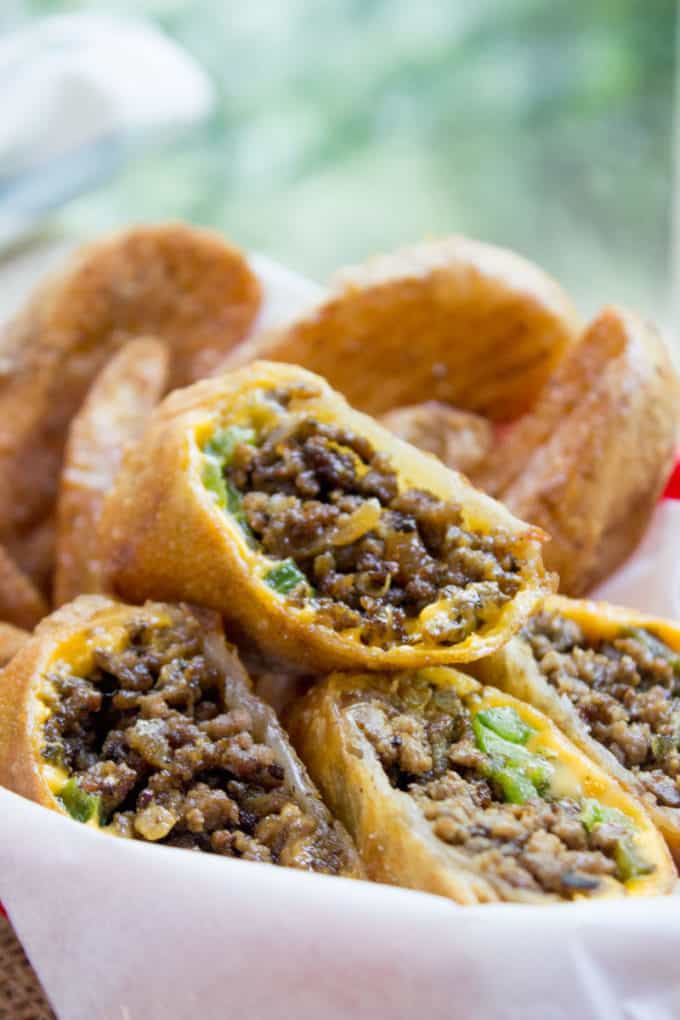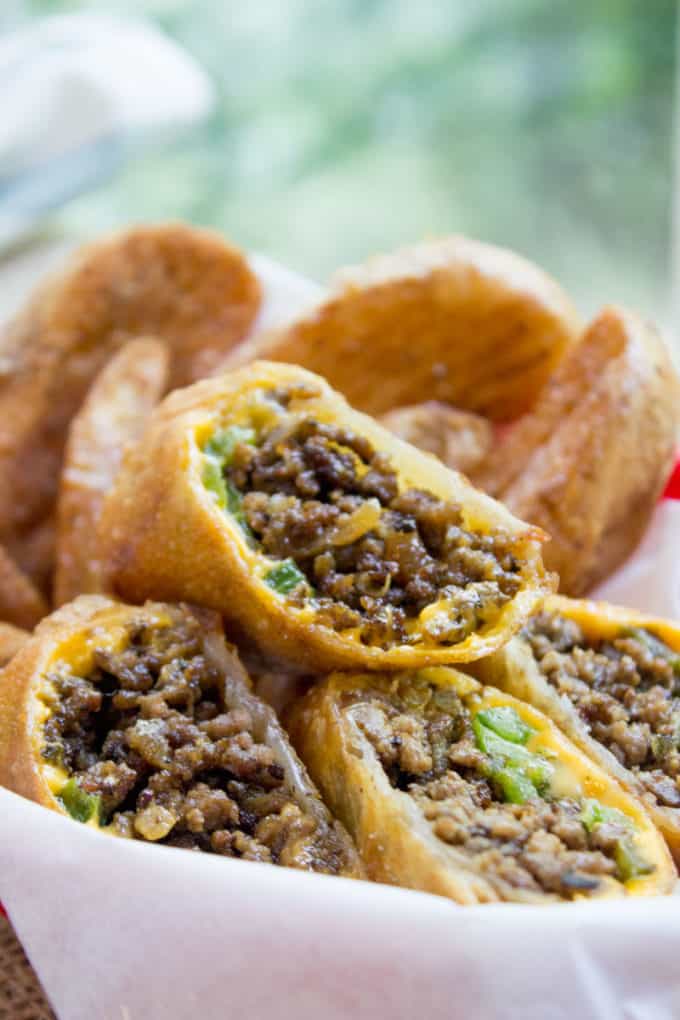 Cheesesteak Egg Rolls are basically the perfect fusion of American fast food and Chinese fast food in one. We love this recipe because they're so easy to make (and cheap!! No ribeyes needed here, ground beef for the win!) and you can make enough for dinner tonight and then freeze an additional giant batch for the next three times you crave them!
I have been on an egg roll kick recently, so when I looked in the fridge and saw ground beef and my counter had an onion and green bell pepper sitting on it I knew we would be eating Philly Cheesesteak Egg Rolls for dinner. One of my favorite takeout options, the years I spent in college in Washington, DC definitely introduced me to the delightful world of cheesesteak subs.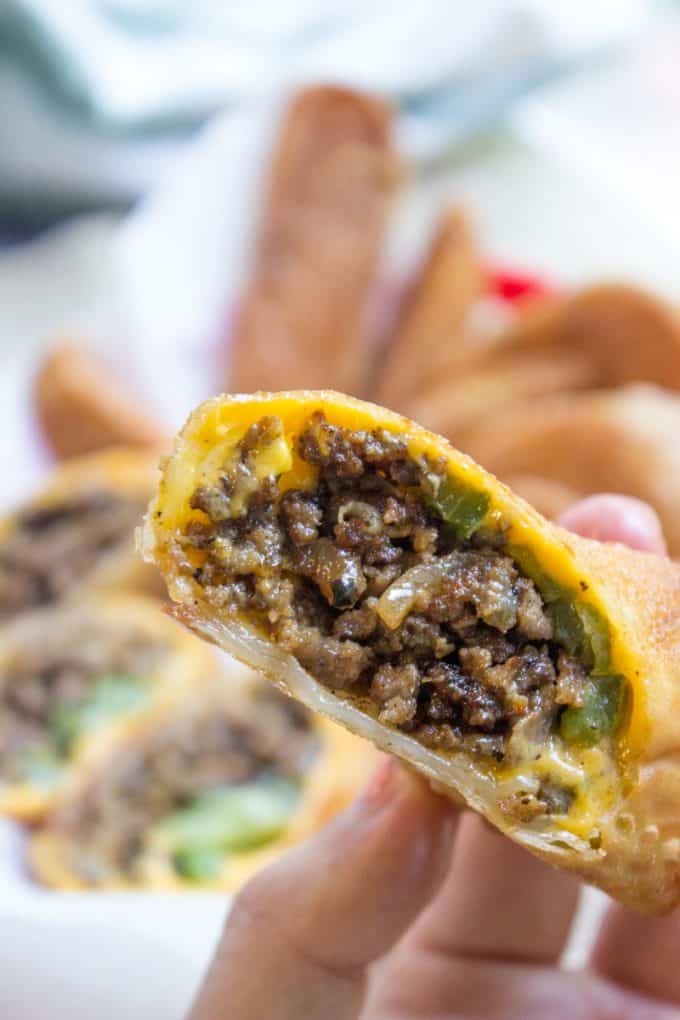 We used to take day trips into Philadelphia to decide between Pat's and Geno's [the clear winner there is Pat's]. Takeout places were open daily until 4:00 am in our neighborhood, they always had 2 for $10 sales for subs, fries and drinks. One place was so memorable, Manny and Olga's, that when we moved back to DC for a few years it was one of our first food stops.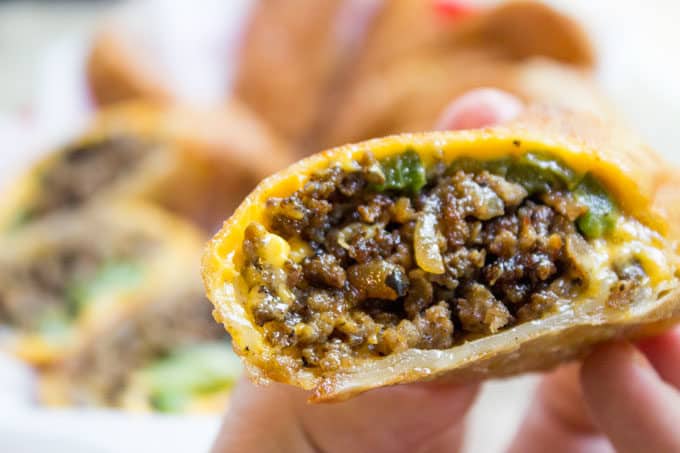 Looking for an alternative to these Cheesesteak Egg Rolls? How about…
We love all versions of Cheesesteaks around here, classic and a bit out there!
This version of a homemade cheesesteak would be a great finger food item for parties or potlucks. They are ready to go in the pot of oil in less than 30 minutes and can even be frozen un-fried for later use. You know how your egg roll wrappers come 24 to a package? This is the perfect amount to use the whole pack! And if it's just a few of you eating, you'll have a huge batch left over to freeze for later.
What kind of meat do you use in a cheesesteak? Ribeye steaks sliced very thinly are commonly used in cheesesteaks but for the purposes of these egg rolls we are using ground beef.
Some awesome dipping sauce ideas for these Cheesesteak Egg Rolls?
Ketchup… I mean, c'mon, admit you've never added ketchup to a cheese steak.
A mix of ketchup and mayo.
Cheez Whiz!! One of the only acceptable times in life to use the whiz.
Ranch…but only because so many people I know say ranch is the dip for everything, ever.
Take the spicy route with mayo, sriracha and a mix in of awesome hot peppers (Pat's has the most amazing hot peppers)
Tools Used in this Philly Cheesesteak Egg Rolls:
Oil Thermometer: You're looking for 350 degrees on your oil here. Everything inside is cooked but you want a good golden brown exterior and some melty cheese action inside.
Tongs: I normally use the pig tail flipper for frying but because this has a filling to protect definitely go with tongs here. Slotted spoons or spatulas invite oil burns if the egg rolls fall back in (trust me on this one).
Cooling rack: Don't cool on napkins or paper towels, they will cause steam to build up and a soggy half of your egg roll!
Cheez Whiz: For dipping. Don't judge me until you've tried it.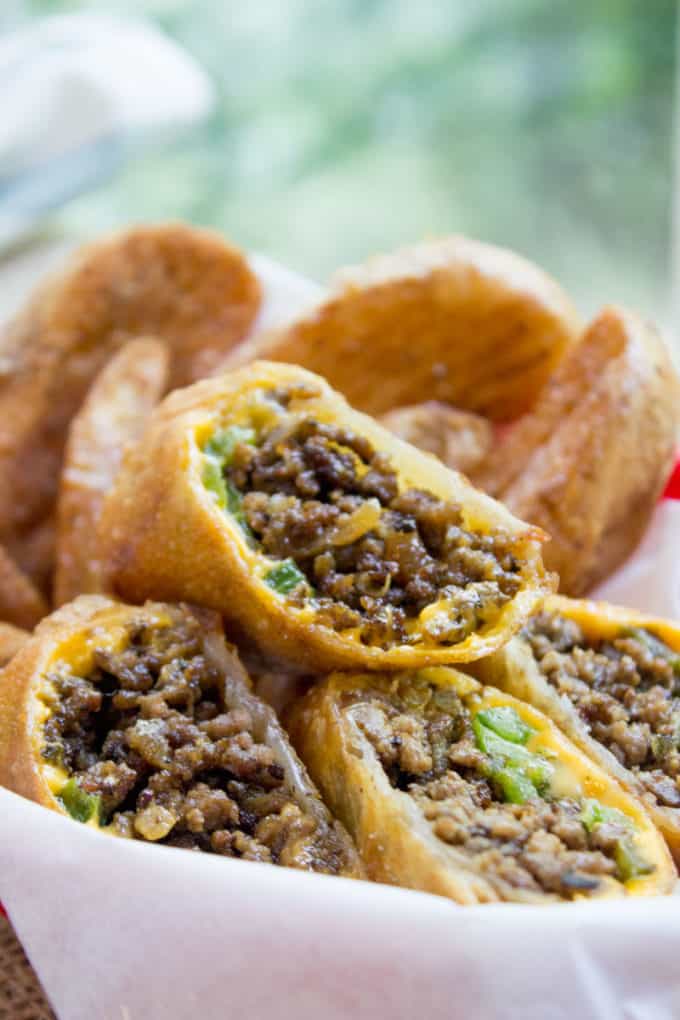 Philly Cheesesteak Egg Rolls
Philly Cheesesteak egg rolls have all the flavors of the classic Philly Cheese Steak Sandwich in a crispy shell and made with ground beef!
Ingredients
1

pound

ground beef

1/2

teaspoon

salt

1/2

teaspoon

pepper

1

tablespoon

Worcestershire sauce

2

tablespoons

butter

1

yellow onion

, chopped

1/2

green bell pepper

, chopped

12

slices

American Cheese

24

egg roll wrappers

small bowl of water

canola oil

, for frying
Instructions
Start by browning the beef in the skillet.

Try to brown without breaking up the meat too much, get a nice brown sear on the beef, then break apart as little as possible. (You want the meat to resemble a pea in size [you want to avoid taco meat consistency]).

Add the salt, pepper and Worcestershire sauce, stir gently and remove from pan.

Add the butter in the pan and add the chopped onions and green bell pepper, cooking until browned and caramelized.

Once browned, add the meat back in and combine together.

Let the mixture cool while you prepare your egg roll wrappers and cheese.

Lay them on a flat surface and place a half a slice of American cheese on the wrapper.

Add three tablespoons of the meat mixture on top of the cheese.

Starting from the bottom left pull corner over the meat, then fold the two sides in.

Wet the edges and roll tightly.

Set a pan to heat with canola oil, about an inch high would do the trick.

Add 3-4 egg rolls in them at once.

Once they have browned, you can take them out and dry them on a cooling rack or brown paper bag.
Recipe Notes
Make sure to keep the wrappers covered when you aren?t actively using them so they don?t dry out.
You don?t really want to crowd the pan because they may stick together or it could even drop the temperature down too far.
Avoid cooling on napkins and paper towels, you don?t want to capture steam under the egg roll, it will create sogginess.
Nutrition Facts
Philly Cheesesteak Egg Rolls
Amount Per Serving
Calories 136
Calories from Fat 72
% Daily Value*
Fat 8g12%
Cholesterol 27mg9%
Sodium 326mg14%
Potassium 92mg3%
Carbohydrates 8g3%
Protein 6g12%
Vitamin A 140IU3%
Vitamin C 2.4mg3%
Calcium 121mg12%
Iron 0.9mg5%
* Percent Daily Values are based on a 2000 calorie diet.